Hey everyone. I'm back again with another update. This is my fifth update in my AWS certification journey and at this point I have already cleared the AWS Solutions Architect Associate exam. My next update will detail what I will work on next. Today's post is more about motivation, so I thought that I'd talk a bit about success and failure. I know that some of you who are now reading my blog are working on your AWS certification and have an interested in gaining tips and tricks. Hopefully some of what I have posted so far has been helpful. I know you want to succeed. But what does success mean?
Success
Success means something different to each one of us. For me, acheiving the AWS Solutions Architect certification is not success. It's just a stepping stone in the journey. For me, success is being able to teach it back. To explain a technology that I've learned in a way that helps someone else is my success. I've had a lot of success over the years. I started working on my Cisco certifications back in 1999 because of the money. I was working at GTE and a colleague had just acheived the CCIE Routing & Switching. He got a big raise, then promptly left the company for a new job that surpassed that. Having very little experience with Cisco gear I had to start at the beginning. Back then it was the CCNA, then the CCNP, followed by the CCSP which no longer exists. In total there were 8 exams for those three certifications. I dont think my Pearson account even shows them all. But in all that I left GTE and started working for the company that was training me, Ascolta. Sadly Ascolta is no more, but I have many memories of my days of being a Cisco Certified Systems Instructor and teaching all over the United States. Thanks to the web archive I was able to grab a screenshot of Ascolta's website from 2010.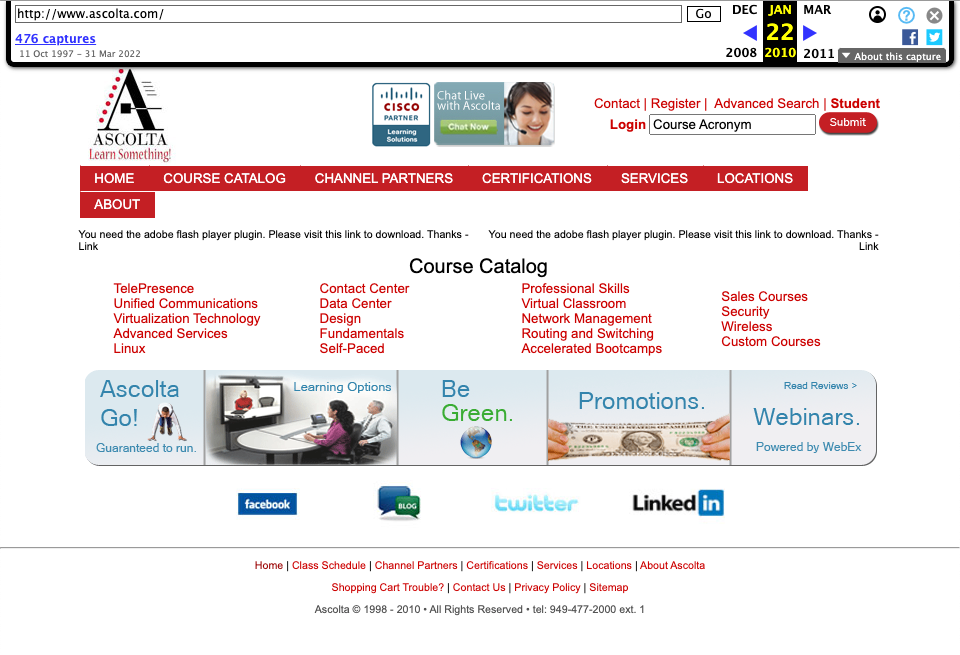 It was around the time I started working at Ascolta that the money was no longer the incentive to get certified. It was the result of the certification that was the incentive. The certification was necessary because I was teaching. The result of the certification was an understanding of what I was teaching. The certfication wasn't success. No, the certifications were an enabler for the success I was finding in teaching my students.
Certifications provided a formal outline of learning in a topic area I otherwise wouldn't have known where to begin. Certifications provided a way for me to validate something I learned even if my employer wasn't asking me to do it at the time. Gaining knowledege is what lead to my success and this lined up with my role as an instructor. But that was me. What about you? Have you defined your success? What does it look like? How do certifications get you there?
Failure.
Looking back at my Pearson Vue account, I have taken around 34 Cisco exams (at least that's what they show) not counting the CCIE Lab Exam that I have sat.
I have failed several exams.
For instance, I failed the CCIE Routing and Switching written exam on January 21, 2010, and then went back and passed it on January 28th 2010.
If you stay at it long enough and if certifications are part of your path, expect to fail at some point in time. This should be acceptable. Use the failure to identify the weakness and then go fix it. You will gain experience. Success will come, provided you don't give up.
Closing Thoughts
My career had taken a few turns along the way, but I feel I've found success. I have a job that I love, I can support my family, I am able to share new thigns with the community, and I'm still learning every day. I still have goals that will add to my success. I'll keep working on them. I'll fail a bit, learn from it, and continue on.
Maybe you're on a similar path. Define your success. Set your goals to acheive success, and then push. You can do it.